Find out why Holy Spirit Catholic School maintains a top rating among east-side schools and why our community loyalty is unmatched.
We're proud of our students!
Holy Spirit students excel in academics but are also enriched by the extracurricular activities offered through participation in clubs, fine arts, and athletics. Extracurriculars give our students the experience and confidence to join a club, try out for the lead in the play, speak at mass, sing in the choir, play an instrument, write for the school newspaper, create a beautiful painting or participate in sports.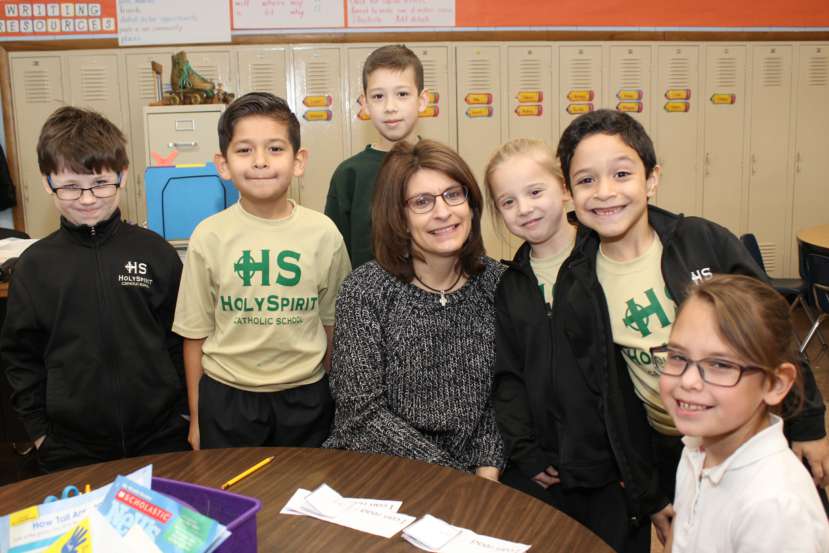 The Spirit of Holy Spirit
Watch our first school video where every Holy Spirit student took part in performing together to share our love for our school and community!
The Catholic Youth Organization (CYO) promotes spiritual, cultural, social and physical development for the parish youth. Sports teams are organized each year in CYO sponsored leagues in cross country, track and field, football, basketball, volleyball, kickball, soccer, baseball and wrestling for grade school youth.
Need help? Our caring counselors are friendly, patient, and understanding.
Stephanie Marshalleck
School Social Worker
MSW, LCSW
I have worked as a marine biologist before I became a social worker. Now I help students who are stressed, sad or being bullied at school, at home, or on social media. As a social worker I promise to listen without judging and help each student discover the best solutions to their problems. I also keep all information private. 
Feel free to talk to me or email me if you are worried for yourself or a friend.
Anne Therese Kelshaw
School Social Worker
MSW, LCSW
I have worked as a social worker for several years with various populations from young children to elderly adults! Every day, I try my best to live in God's image and likeness and I feel blessed to be here at Holy Spirit to share my light, love and talents with the students and staff! 
I am here to listen, engage and provide resources to any student or staff member experiencing overwhelming emotions, grief, trauma, or difficulty expressing their feelings. I am also here to advocate for the students and to ensure that I am available to be an asset to the Holy Spirit family. 
Feel free to reach out to me via email, phone or in person! I am here for you!